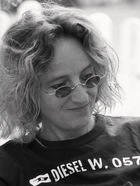 ALINA TYRO-NIEZGODA - graduate of the Architecture Department at the Warsaw Technical University, for many years worked in advertising, as a co-founder and co-owner of Testardo Advertising Agency (currently Testardo Red Cell). Today, works under the sign of ANTIDOTUM, creating architectural designs, interior decoration, furniture design, as well as various graphic projects. She also s her own unique decorative objects and jewellery.
She has been presented her works on fair-trades "Amberif" and "Gold, Silver and Time" and on this occasion also took a part in some competitions , gaining awards ( in 2006 at "Gold, Silver and Time" and 2007 at "Amberif") .
Member of the Association of Goldsmith Artists, certified Art Clay instructor. At the Antidotum Workshop(www.wytwornia.antidotum.pl), Alina teaches Art Clay courses, perspective drawing and hobby workshops including soutache, felt and weaving workshops .