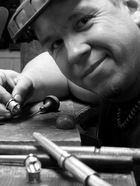 Gold and jewelry design is my passion and professional work. For 25 years, that whole adult life doing this job. In my studio created a traditional and exclusive gold jewelry, as well as modern copyright collections of silver. I worked with fashion designers and took part in many shows. I also had the opportunity to gain experience in the European Jewellers in Christchurch, New Zealand. That´s where I brought a very beautifully stained abalone paua shells. They inspired me to create a simple in form but sophisticated collection, which you can see here. Regards, Martin Młynarczyk of Lublin.
Opinie klientów

Dorota
, 2012-04-07
Bransoletka spełniła moje oczekiwania. Jest SŁODKA. Dziękuję bardzo.
Jolanta
, 2012-05-30
Piękny nie na co dzień, uroczy, "bogaty", samo patrzenie na niego to uczta. Serdeczności - Jolanta Stopczyk

Marianna
, 2013-07-11
Dziękuje bardzo, pierścionek jest śliczny. Szybka i profesjonalna realizacja zamówienia. Pozdrawiam, Marianna Nazarewicz

Justyna
, 2015-07-16
Przepiękny naszyjnik, wykonany precyzyjnie i z niezwykłą starannością. Jestem zachwycona!!!!!Dziękuję serdecznie.

Agata
, 2016-12-13
Oryginalny, piękny i bardzo starannie wykonany :) Bardzo udany zakup. Dziękuję i pozdrawiam serdecznie Artystę :)